Hospitality is a dynamic industry that is continuously growing and encompasses a wide range of businesses. As the global economy continues to grow, the demand for skilled professionals in the industry is also growing. Northwood's Bachelor of Business Administration in Hospitality Management will teach you everything you need to know to manage, run, or establish a business in the hospitality industry.
With this program you will embark on a successful career in hospitality, while also ensuring future employers take note of your capabilities.
Northwood's Bachelor of Business Administration in Hospitality Management will allow you to participate in the US OPT – Optional Practical Training program.
This program is accredited by the Accreditation Council for Business Schools and Programs (ACBSP).
GET STARTED
Please register below to receive program brochure and connect with a program advisor.

The global hospitality industry is growing at an exponential rate with limitless opportunities in the domestic and international market. It is considered as one of the world's fastest growing employment sectors. Here is a glimpse into a career in hospitality management:
Here is look at a few companies who have employed our graduates:
"I am one of the co-founders and President of Jet's Pizza, the 18th largest pizza chain in America. I wanted my kids to be successful, and after researching and hearing from Northwood alumni, I decided Northwood University would be the best place for them to achieve success. Based on their experiences thus far, my wife and I decided this was the best investment, and we are very proud of our children. We feel that Northwood University has prepared them to enter the business world with a wealth of knowledge and high achievements."
For over 60 years, Northwood University has prepared students to launch their careers successfully in their selected field. And our holistic approach develops the future leaders of a global free-enterprise society.
At Northwood, you will start classes in your major on your first day. This means you can validate your interest in a major field of study early and be prepared for internships after your first year. During your time at Northwood, you will;
The Bachelor of Business Administration in Hospitality Management curriculum is designed to provide students with a comprehensive education in the business of hospitality. The program covers all aspects of hospitality management, including operations, finance, marketing, and human resources. You will also study the various segments of the hospitality industry, such as lodging, food and beverage, and event planning, giving you a firm ground in whichever career you decide to pursue.
Throughout the program, you will have the opportunity to apply your knowledge and skills in real-world settings through hands-on projects, case studies, and internships. By working with industry professionals, you will gain valuable experience and insights that will prepare you for careers in a variety of roles.
Hospitality Management Course Descriptions
The program follows a simple 3-step application process. The step-by-step process is outlined below.
STEP 1: SUBMIT APPLICATION
Candidates can apply to the program online and attach all required materials as outlined in the requirements below.
STEP 2: ROLLING ADMISSION
The admissions team will assess your application as soon as it is received.
STEP 3: INTERVIEW
Candidates might be required to give an interview before being accepted into the program. Once all the requirements are completed, the admissions team will notify you with a decision.
For admissions support, we offer online office hours, an admissions checklist, and email and phone support to answer your questions.
Applicants for the undergraduate program are required to have:
Passport ID page (must be valid for at least 6 months beyond the entry date to Northwood University)
Secondary school transcripts
Secondary school completion certificate or diploma
College or university transcripts (if you have completed any university credits)
Deadline:
Application Fees:
USD 100
Please Note: Application fee is refunded only in the case an applicant is not offered admission to the program.
OPTIONAL PRACTICAL TRAINING – US OPT
After you have completed at least one year of your studies in the U.S. you will be eligible to participate in the US OPT (Optional Practical Training) program for F-1 students upon the completion of your undergraduate degree, allowing you to stay in the US while you start your career in hospitality.
Optional Practical Training (OPT) is temporary employment in the US that is directly related to an F-1 student's major area of study. Eligible students can apply to receive up to 12 months of OPT employment authorization before completing their academic studies (pre-completion) and/or after completing their academic studies (post-completion). Please click here to know more about OPT.
The following figures are fixed 2023-2024 costs for 12-17 credit hours per semester.
Expense Description
1st Semester (Fall)
2nd Semester (Spring)
Total Per Year
Tuition*

1st Semester (Fall):

$15,700

2nd Semester (Spring):

$15,700

Total Per Year:

Student and Technology Fee

1st Semester (Fall):

$800

2nd Semester (Spring):

$800

Total Per Year:

$1600
*The fee does not include transport expenses, health insurance, any associated visa fees etc. and accommodation. It also does not cover any other expenses that are not expressly mentioned above. Students are required to live on campus for the first two years of attendance at Northwood University.
Healthcare plan is mandatory and is available for approximately USD $1,500*/year (*Subject to change per academic year).
The aim of the scholarships is to provide outstanding candidates with an opportunity to study irrespective of their financial circumstances. The program offers significant scholarship funding to the most talented applicants.
All applicants for the Bachelor of Business Administration in Hospitality Management program are automatically considered for Northwood University scholarships. Scholarship amounts will be noted in your letter of acceptance.
With a large international presence both at our U.S. locations and abroad, the Northwood student body is very diverse. Our alumni are at ease in complex, multi-cultural business environments with a professional network around the world. Learning at Northwood takes place in more than just the classroom. With a multitude of activities to choose from, students realize significant personal and professional growth which, after graduation, will set them apart as they launch their careers.
Be it academic-based organizations like the Entrepreneurship Society, Collegiate DECA or Business Professionals of America (BPA) to Greek Life to service-based organizations like Circle K, Rotaract, the Student Athletic Advisory Council or Student Government Association, Northwood University has ways for students to be engaged and involved on campus and in the local community. These experiences help students learn first-hand, how businesses and people connect through shared experiences.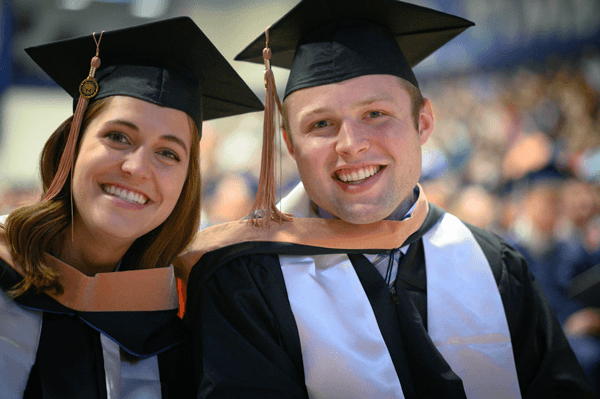 Northwood students graduate with a superior business education that gives them a foundation of understanding free markets, entrepreneurial endeavors, personal responsibility, and ethical behavior. And, NU students also graduate with the ability to effectively communicate their ideas, beliefs, and experiences in an effort to promote success in their own lives and in the lives of others. Through workshops and campus-life programming, students hone networking, interviewing and résumé writing skills putting them one more step ahead in a competitive job market.
One hallmark of the Northwood education is hands-on, experiential learning. Many of our academic programs enhance classroom learning with large-scale, active learning student-run projects. These events allow our students to apply what they learn in the classroom to real situations.
ENTERPRISE/ENTREPRENEURIAL ORIENTATION
Many Northwood alumni earn their livelihoods in enterprises they own in whole or in part. While we offer a program in entrepreneurship, our entire curriculum is focused on enterprise models and entrepreneurial achievements. Enterprise is a key tenet of our Mission, and we believe entrepreneurship is the essential element of our free market economy.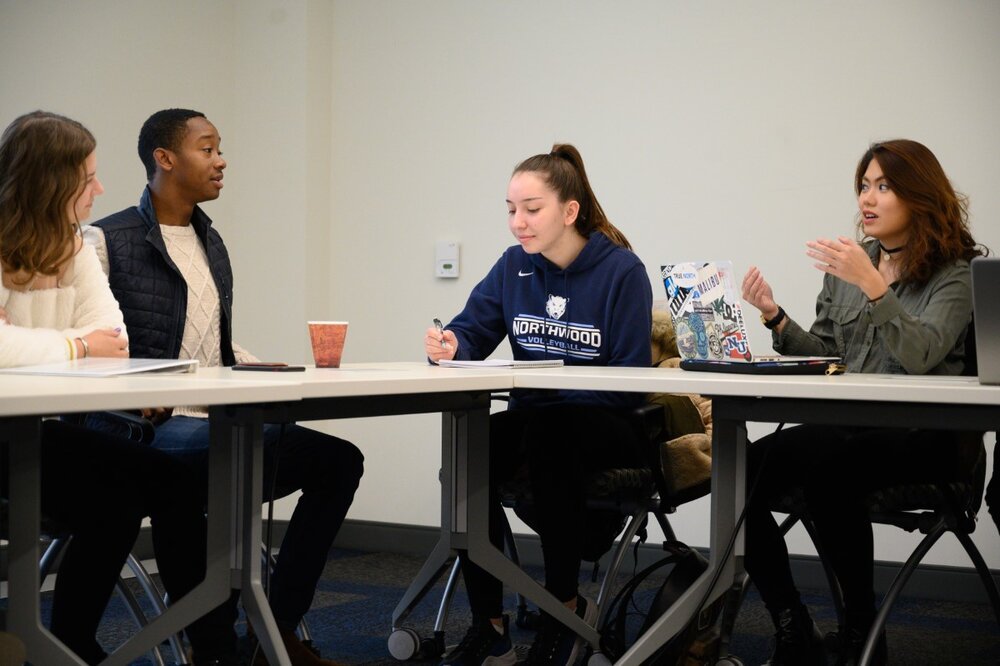 While our student-athletes are competing on the athletic fields as part of the NCAA Division II Great Lakes Intercollegiate Athletic Conference (GLIAC); many of our students also compete in academic arenas. Our national champion Mock Trial team has bested teams from Harvard, Georgetown, and Stanford while our Competitive Speech team, American Marketing Association, BPA, DECA, and American Advertising Federation student chapters regularly place in regional and national competitions.
On March 23, 1959, two young men with an idea, a goal, and a pragmatic philosophy to encompass it all, broke away from their careers in a traditional college structure to create a new concept in education.
Their visionary idea became a reality when Dr. Arthur E. Turner and Dr. R. Gary Stauffer enrolled 100 students at Northwood Institute. They envisioned a new type of university – one where the teaching of management led the way. While the frontiers of space were revealing their mysteries, Stauffer and Turner understood all endeavors – technical, manufacturing, marketing, retail, every type of business – needed state-of-the-art, ethics-driven management.
Time has validated the success of what these two young educators called "The Northwood Idea" – incorporating the lessons of the American free-enterprise society into the college classroom.
The University grew and matured; Northwood went from being an Institute to an accredited University, the DeVos Graduate School of Management was created and then expanded; the Adult Degree Program and its program centers expanded to over 20 locations in eight states; international program centers were formed in Malaysia, People's Republic of China, Sri Lanka, and Switzerland; and significant construction like the campus Student Life Centers added value to the Northwood students' experience. New endeavors such as Aftermarket Studies, entertainment and sports management and fashion merchandising, along with a campus partnership in Montreux, Switzerland, demonstrate an enriched experience for all our students.
Northwood University educates managers and entrepreneurs – highly skilled and ethical leaders. With more than 65,000 alumni and a vibrant future ahead, The Northwood Idea is thriving.
| | |
| --- | --- |
| 31% | of Northwood graduates own some or all of their business |
| | |
| --- | --- |
| $13m | in scholarships available |
| | |
| --- | --- |
| 40+ | clubs, fraternities and sororities |
| | |
| --- | --- |
| 82% | of graduates employed full-time or accepted to graduate programs (as per our most recent graduate survey) |
31%
of Northwood graduates own some or all of their business
$13m
in scholarships available
40+
clubs, fraternities and sororities
82%
of graduates employed full-time or accepted to graduate programs (as of our most recent graduate survey)
ACCREDITATIONS, APPROVALS, AND MEMBERSHIPS
Northwood University believes it has a responsibility to its students and the industries and communities it serves to provide the highest standard of educational excellence possible. One measure of how well an educational institution meets this responsibility is in its accreditations and approvals by outside education associations and governmental interests. Because each Northwood location is served, at least partially, by different governmental agencies and academic accrediting bodies, and because all have been in existence for varying lengths of time, the accreditations and approvals may vary from one location to another.
ALL NORTHWOOD UNIVERSITY CAMPUSES/LOCATIONS HAVE THE FOLLOWING ACCREDITATIONS AND APPROVALS:
Northwood University is accredited by the Higher Learning Commission (www.hlcommission.org). For more information, please click here.
Northwood University business degree programs have business specialty accreditation from the Accreditation Council for Business Schools and Programs (ACBSP), (www.acbsp.org).
The United States Department of Homeland Security (DHS) certified school for nonimmigrant foreign students (Fvisa); Citizenship and Immigration Services (USCIS)/ Immigration and Customs Enforcement (ICE); and Student and Exchange Visitor Program (SEVP) as a higher education institution for international students.
Respective state offices for Veterans Administration programs as a higher education institution for degree-seeking qualified veterans and dependents.
The U.S. Bureau of Internal Revenue as a tax-exempt institution as provided for in Section 501 (c) (3) and other applicable parts of the Internal Revenue Code for higher education organizations.
NORTHWOOD UNIVERSITY MEMBERSHIPS ARE REPRESENTED IN SUCH EDUCATIONAL AND PROFESSIONAL ORGANIZATIONS AS:
American Accounting Association
American Advertising Federation
American Association of Collegiate and Admissions Officers Registrars
American Certified Fraud Examiners
American College Health Association
American College Personnel Association
American Hotel and Lodging Association
American Institute of Certified Public Accountants
American Library Association
American Management Association
American Marketing Association
American Marketing League Association
American Payroll Association
American Taxation Association
Association for Communications Technology Professionals in Higher Education
Association for Higher Education and Disability
Association for Leadership Educators
Association for the Tutoring Profession
Association of College and Research Libraries
Association of College and University Housing Officers International
Association of College and University Telecommunications Administrators
Association of Professional Researchers for Advancement
Association of University Programs in Health Administration
Association of Veterans Educators Certifying Officials
Automotive Aftermarket Industry Association
College and University Personnel Association for Human Resources
Council for the Advancement of Experiential Learning
Council for Higher Education Accreditation
Council for Hotel and Restaurant and Institutional Education
Data Processing Management Association
Educause
Family Enterprise Research Scholars
Family Firm Institute
Global Consortium of Entrepreneurship Centers
Intercollegiate Press Association
International Assembly for Collegiate Business Education
International Council on Hotel, Restaurant & Institutional Education
International Leadership Association
Mathematical Association of America
Motor and Equipment Manufacturing Association
National Academic Advising Association
National Advertising Federation
National Association for Campus Activities
National Association for College Admission Counseling
National Association for Developmental Education
National Association of College Admissions Counselors
National Association of College Auxiliary Services
National Association of College Stores (through its bookstore provider)
National Association of College and University Business Officers
National Association of Colleges and Employers
National Association of Educational Buyers
National Association of Independent Colleges and Universities
National Association of Intercollegiate Athletics
National Association of International Educators
National Association of Graduate Admissions Professionals
National Association of College and University Mail Services
National Association of Student Financial Aid Administrators
National Association of Student Personnel Administrators
National Association of Veterans Programs Administrators
National Automobile Dealers Association
National Collegiate Athletic Association
National Collegiate Honors Council
National College Learning Center Association
National Cooperative Education Association
National Council of Teachers of English
National Council of Teachers of Mathematics
National Council of Women of the United States
National Association of Educational Buyers
National Association of Independent Colleges and Universities
National Association of Intercollegiate Athletics
National Association of International Educators
National Home Fashions League
National Restaurant Association
Newspaper Association of America
Organization of American Historians
Photographers' Association of America
Society for College and University Planning
Society for Human Resources
Specialty Equipment Market Association
The Fashion Group
University Risk Management and Insurance Association